First and foremost let me thank Astro Gaming for sending this bag out for review.  I have enjoyed my time with the MLG Scout Backpack and I am sure I will be left with withdrawal symptoms because my daily use will dwindle after this review.  This is my first bag review therefore the formatting for the review will be slightly altered to accommodate for the review item.
The Astro Gaming Scout Backpack was introduced in November 2009 to accommodate the growing popularity of the Astro A40 Audio System, as well as the many people that consider themselves in the mobile tech/gamer category.  The specific target demographic for the Scout and MLG edition Backpack are the gamers that travel to LAN events and bring their headphones, mixamps, controllers — basically their living room with them wherever they go.
During my attached-to-my-back-a-thon, two-week evaluation, I tested the following for my review:
Design
Durability
Capacity
After hundreds of zips and unzips, two hiking trips, and a few passing compliments I have concluded that this is a very good backpack with minor issues.  Let's take a extensive look at my MLG Scout Backpack evaluation.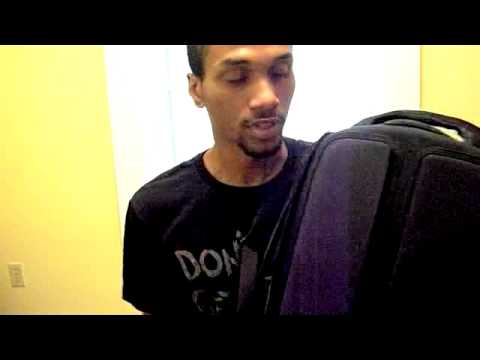 Design (Exterior & Interior)
The first time I set eyes on the backpack which was sometime late last year, I thought it looked amazing online.  It was not until January of this year that I saw someone with the backpack at MLG Orlando, and knew that Astro hit a cord with the gaming community.
At first glance, the exterior of the backpack appears to be a fairly standard.  It is all black with only the Major League Gaming and Astro branding on the foremost pocket of the backpack.  Astro plays it safe with the color scheme; black is a universal backpack color and works well with the simplicity of the exterior design.  I would however, like to see a few more color options with the backpack down the road.
The two main compartments utilize dual zippers (quite thick so don't worry about breakage) for easier packing and unpacking of various items.  The zippers have the Astro Star emblem engraved on the end of each zipper for added "cool."  Along the back of the backpack are three rigid panels to support heavier loads and important, expensive equipment.
When compared to standard "school" backpacks, I immediately noticed that each strap has a bit of extra padding to help those that might have weak, frail bodies like myself, carry around my goods. The extra padding added quite a bit of comfort, even when I loaded my bag up with 40 lbs – 50 lbs of random stuff.  One thing I did not like about the straps was the fastening buckle that connected the two straps to each other.  I am 6′ 1″ and whenever I fastened the buckle it was too high on my chest. I tried a number of different adjustments and I felt both awkward and uncomfortable with each adjustment. To validate my feelings, I asked several friends, all of whom are taller than me, to try it on with the buckle fastened.  The common response was, "I don't like this strap, it's too high."  I would have liked to completely take off that fastening strap because I did not want it dangling in front of me unfastened.  Figure out how to fix that and you might get some 6′ 2″ – 6′ 6″ football players to buy the backpack.
There is a small adjustable pocket on the right or left (depending on how you look at it) side of the backpack for drinks or other smaller items.  I generally put my keys in this pocket, but when I went hiking I used it for my bottled drinks.  The fact that it is adjustable provided me the option to choose how I wanted to use it and in each case it was a matter of personal preference.
The interior which I will cover in more detail during my Capacity section, features a nice design pattern.  The Astro Martian/Robot (Astro what is it exactly?) is plastered on the interior walls of both compartments making for a nice design to show off to one of your friends as you open up the backpack.
Durability
Quite frankly, the only practical use I utilized the pack for was walking around the ISU campus for a couple hours.  Most people are not going to take this backpack on a hiking trip, let alone fill it with useless stuff with the intent to "take it to the extreme."  Keeping that in mind, I felt like the Scout Backpack was absolutely phenomenal.  It held up exceptionally well and the only problem I ran into was that I was able to bend, after roughly 500 combined zips and unzips, one of the smaller zippers on the exterior and interior of the bag.  Everything else was peachy.
There is plenty of cushioning and the bag's materials are very well constructed.  No problems thus far, but I will update this section when the buckles, straps, and all the zippers fall off.
Capacity
There are 2200 cubic inches of space allotted to the Scout Backpack.  I counted 16 total compartments, including the two large ones, the 17″ laptop compartment, and the three compartments on the exterior of the bag.  I stuffed a little over 50-pounds of various items into the backpack to get an idea of what it was able to hold and was rather impressed.
If you are in the line of web tech, gaming, or just carry a bunch of small wires for different gadgets the Scout Backpack has every compartment you need. I was personally very satisfied with its ability to hold a couple delicate items like glasses (there is a specific compartment) and a well padded area for the expensive or inexpensive laptop.
I know there are quite a few gamers that read the blog.  For that audience, I was able to fit a traditional Xbox 360, my Astro A40 Audio system, two hard drives, two controllers, Gunnar Optiks, an HDMI cable, and a few other various wires. Despite its appearance the bag easily has enough space for just about anything you can imagine carrying as a gamer.  Students and those in the web tech space will be equally satisfied.
Pros and Cons
Pros
Comfortable to carry around with larger loads
Lots of smaller compartments for gadgeteers and tech savvy
Good price point at 79.95
Well constructed
Protects fragile items
Cons
The fastening strap buckle is cumbersome
Decorative zipper & pocket on the front served little purpose
More color options
End of the Day
At the end of the day the MLG and traditional Scout Backpack are exceptional bags for the price of $79.95 USD.  The bag's design, durability, and capacity are great factors that contribute to its awesomeness. It fits the lifestyle of those in the tech and/or gaming-related fields with lots of compartments for gadgets and the associated wires that come with them.
High School  and College students will also thoroughly enjoy this backpack.  There is plenty of space for books and the construction makes for a more comfortable carrying experience than traditional backpacks.  The price point may steer a few students away, but shelling an extra $40 for a backpack of this caliber is well worth it.  The  MLG Scout Backpack is available at the Astro Gaming online store.
Related posts
coded by
nessus