After our recent discussion concerning the "Man Up rule" it kind of spawned a topic concerning objective based gametypes and how they would affect the gameplay flow for 1-Life gametypes for Gears of War. There was a fairly large outcry from the community when a post concerning the Man Up Stalemate rule (closed by J. Graf) surfaced on the Epic forums. The new rule was later addressed on Rod Fergusson's Q&A session on July 15th, where he stated that the new rule could be changed based on feedback.
The Man Up rule essentially aims to alleviate stalemates and "camping." I believe the ultimate goal is to speed up the flow of games and to force action with a higher rate of frequency in the Execution and Warzone gametypes. While this new rule introduction may provide an alternative to the persistent problem with the campy game flow of Execution and Warzone, I believe there should be a more extensive look into creating an objective-based gametype around 1-Life game modes. Why you ask? Read on to find out!
There have been a few instances of bomb gametype suggestions on the Epic Forums, the most notable in my opinion, was by Dan91Easton and his thread, Official Request for Bomb Defusal Gametype. It's definitely worth noting that this thread was created in 2008 so the idea has been around for a few years now. Heck, I even liked the name he chose for the gametype, but I felt like there wasn't enough reasoning behind why an objective gametype should be included for the Execution and Warzone game mode styles. This is something I think is completely plausible as DLC and is something I believe would add an extensive amount of additional value to the long-term replay value of the game, like Annex did for Gears of War 1.
Gametype: Extermination
COG have two ways of winning a round:
1. Kill all Locusts — I agree
2. Plant bomb and successfully detonate the bomb (note that bomb can still be detonated while ALL COG are dead) — I agree

Locust have three ways to win a round:
1. Kill all COG — I agree
2. Disarm a planted bomb. — I agree
3. Prevent the COG from arming the bomb when the time runs out. — I agree

BRIEF DETAILS

- The COG always spawn with the bomb. — I agree
- The BOMB carrier moves at normal speed, roadie runs at normal speed. — I agree
- The BOMB carrier can have access to weapons on map, and all of his starting weapons. — I agree
- The BOMB will have an ARM time of roughly 5-10 seconds to arm the bomb, configurable in gametype settings. — I agree (5 seconds)
- The BOMB will have a detonation time of roughly 30-45 seconds, this is configurable in gametype settings. — I agree 30 seconds
- There are TWO BOMB sites represented by RINGS like Annex or KOTH and would be placed on ALL MAPS in specific locations that are balanced a part from one another to provide two routes to take the bomb. — I agree
- Respawns would be a gametype option, by default, there would be no respawns. — I disagree, always no respawns.
- Weapons on map would be default, and configurable by weapon swapping. Ideally the gametype may play better with no weapons on map. — I agree with default but disagree with his "ideal" gameplay

Configurations:
- Bomb Arm Time
- Kill-style: Execution or Warzone
- Bleed time
- Round time
- Rounds to win
- Bomb Detonation time1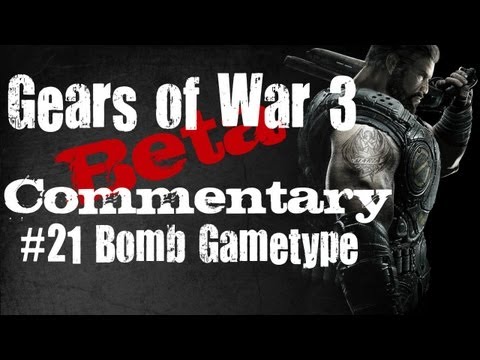 Speed and Overall Game Flow
The overall game flow is the biggest contributing factor to creating a Bomb Defusal gametype. I think it's an obvious solution to Epic's concern with "stalemates" as Rod Fergusson stated in his Q&A session. He suggests that no one likes stalemates, but at the same time it has been a fundamental part of Execution and Warzone gametypes for the last 5 years. Instead of creating an objective based gametype for Execution and Warzone, I think Epic kind of took the easy route by creating the Man Up rule and enforcing the notion that if you're down a man you lose at the end of a round.
We've all had that scenario where it's 4 versus 2 in Warzone or Execution and the team with the lesser number of players refuses to risk losing the round and does everything in their power to force a stalemate. Hey, I get it! No one wants to lose, but throwing in the Man Up rule flips the priorities for the team with the most players.
What a Bomb Defusal gametype does for Execution and Warzone rules is essentially the same thing as the Man Up rule. It forces one team, specifically the attacking team, to play out the game because if they do not arm the bomb they will lose the round to the defending team when the round time expires. The Man Up rule forces the same result for one team, albeit, at the expense of being out numbered by the opposing team. Don't you? This gametype isn't for the faint at heart, it has never been.  It's for the players that want to really challenge themselves.
New Level of Depth, Strategy, and TEAMWORK
Does the attacking team grab the power weapons or go for a quick plant? Do you send three guys to the bomb site and two to grab the best power weapon on the map? Does the attacking team camp the bomb sites or go for Power Weapons? What are the fastest routes to the bombs? Should I smoke the bomb and plant in the smoke?
There are so many different scenarios that could play out in a Bomb Defusal game type. Those that have played or watched Counter-Strike or Call of Duty's Search and Destroy, may know the level of thought enveloped in the game type. Maybe it's just me, but I feel like there is so much more that the multiplayer could offer and from playing the Beta, I think Epic has really gone leaps and bounds above Gears 2. The maps, besides the spawn camping (I don't like Trenches), felt very balanced, well thought out and seem like they could all play out well with a Bomb Defusal game type.
Don't get me wrong here, I do not think there will be this "mass" adoption of players that move over to a Bomb Defusal game type, however I think we'd see a much higher caliber of player consistently entering Extermination matchmaking. I think we would see the 1-2 players that participated in Execution and Warzone with their microphones in, yelling and screaming, that got frustrated because no one was talking entering Extermination matchmaking. I think we'd see some of the competitive players/teams looking for a more challenging experience entering Extermination matchmaking.
I'm only going to address one argument I've seen against the idea:
"The Defending Team will Camp the Bomb Site"
There are a number of factors that would play into this, the major one being how many bomb sites are on the map — one or two. This argument was brought about by our alluded comparison to Counter-Strike. I would simply like to point out that fundamentally Gears of War is unlike Counter-Strike or Call of Duty. The main reason being, Gears of War, unlike CS and CoD, has Power Weapons allocated on the map. Even if a team decided to fortify themselves on one or both of the bomb sites, would they do so at the expense of grabbing a Power Weapon? It would be mighty hard to give up all of the Power Weapons on the map to defend a bomb site. I couldn't imagine letting the opposing team, whether I was attacking or defending, grabbing a Digger/Boomshot and trying to fortify any position — they would get wrecked.
You have to ask yourself though, even in the highly unlikely event that the defending team (with all 5 of their players), grabbed the power weapon, ran back to their bomb site(s) and defended the objective; what difference would that make versus an Execution or Warzone with the Man Up rule in place? If you're down a man and the team with the higher number of players defended the objective (their lives), the team with the lesser amount of players would still have to try and fulfill the objective (killing the opponent). Keep in mind, and this is directly based on what was said in the Q&A session, no one likes stalemates. Players running around trying to stay alive because they have an advantage in numbers is fundamentally incorrect, when the objective is supposed to be killing the opposition. Implementing a Bomb Defusal objective, provides purpose to the game type without feeling like you've been "slighted" because you were outmanned. It's fundamentally correct to lose a Bomb Defusal round because the objective was not successfully fulfilled by either the attacking or defending team.
Epic Has Done Everything Else
Guardian, Submission, Annex, King of the Hill, Wingman, Execution, Warzone, and Horde mode were all of the game types we saw on Gears of War 2. Gears of War 3 is introducing Team Deathmatch, Capture the Leader, and Beast Mode. Annex has been combined with King of the Hill and Guardian and Submission were combined to create Capture the Leader. The flashy new game type, Beast Mode, is probably both, the most appealing and fundamentally different game type we'll see going into Gears 3. Amidst such a wide variety of game types Epic has tried in the past, consolidated and created for Gears of War 3, I simply want to know why not a Bomb Defusal game type?
The point that @skyzyn brought up in our commentary was that if Epic decided to create a bomb defusal game type, they would give it their own little twist on things — I agree with him. I think however, there are certain twists that Epic made with, let's say their CTF game type Submission, that made it less appealing to a larger audience because it was "so" much different. I tried multiple times to get into the CTF gametype, but walking around at such a slow rate of speed was immensely boring. I do not think that there needs to be a huge twist with this game type for it to, at the very least, provide an alternative objective-based game type that uses the 1-life mechanic seen in Execution and Warzone.
Ties into Storyline
Unlike any of the other objective gametypes, a Bomb Defusal gametype would (or would have) actually tie really well into the story. As @skyzyn and I mentioned in our commentary, the Lightmass bomb was used in Gears of War 1 to eradicate the Locusts' network of underground tunnels. Hedging off of that concept, I think planting a bomb for same purposes provides a legitimate reasoning for the Locust to defend the bomb site and for the COG to destroy it.
Quick Bulletined Points and Questions
There are no 1-Life Objective Based Gametypes. The current objective game types all have
respawns.
Epic has never created a bomb defusal game type, on any of their multiplayer games (I'm not counting Bombing Run). Feel free to correct me if I'm wrong.
Objective-Based, 1-Life game type off sets the Man Up Rule.
We've seen every other game type is some iteration, except Bomb Defusal.
Would there be one bomb site or two?
Are the current maps balanced enough for Extermination?
Is a Bomb Defusal game type and maps an acceptable, plausible DLC?
Delicious Brownies & Last Words
@Skyzyn left you all with delicious cookies, I'm passing out delicious brownies.  Do we really need a bomb defusal gametype? No, absolutely not. I want to end with the thought that this can be entered into the discussion as an option for future Downloadable Content.  I have never been into buying DLC "maps" because they never really add any sustenance to the game. You play the map and memorize it in a matter of days, then you're back to playing the same old game types, in the same fashion as before. I feel like this is something, similar to what Annex did for me on Gears of War 1, that will greatly improve the quality of the game, specifically multiplayer,  in the long run.
My only other request is a competitive playlist, but that's another discussion for another day. I hope you take the time to digest this information, think carefully about it and let me know what your thoughts are on the topic.