This past weekend I took a trip up to Dallas to catch up with a few buddies and check out the new layout for MLG events.  As a little sidenote this was my first event I have ever attended as a Spectator!  Anyway, if anyone watched @MLG_Sundance's live stream tour, you kind of knew what to expect before actually walking into the venue; three main stages with three areas of competition and corresponding feature stages.  Overall, I was fairly impressed with the "potential" that the event has too offer, obviously MLG was dealing with a host of issues that will need to be resolved before the next event.
I usually start with the "bad" but for this type of write up, but I'll switch things around:
The Good
The idea of equal game treatment has probably been one of the league's biggest complaints.  I can honestly say, besides Halo having three screens, the general layout is much more appealing for multiple titles.  It actually felt like every game was equally important and contributed to the atmosphere of the event.  I was most satisfied with the seating arrangement of the new layout, no longer are gamers subjected to "the bench."  Besides the whole 3 aisles of VIP (which were never full), the seating arrangement was spot on!
As far as sponsors go, the Sony area was the highlight of the sponsor booths with Alienware coming in second.  Sony had some pretty badass Playstation 3 demo stations, in addition to letting people play with the Sony Xperia Play.  I spent a good hour or so between the Socom demo and playing Nova 2 on the Xperia Play.  If more of MLG was about that, I think they might see an uptick in spectator passes.  I would love to see Demo stations and Developers at these events and I wouldn't mind if there were a few Xbox 360 demo stations like the ones I experienced at CES (video below).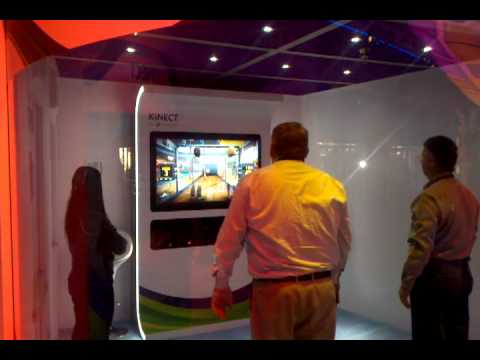 I also want to say that the competition for this event was fantastic! All the big name teams and players showed up and made for some exciting action.
The Bad
I want Call of Duty to succeed more than any game on the circuit, but the game is difficult to watch — I understand everything that is going on, but there isn't much excitement.  I hate to admit this, mainly because I am publicly conceeding to @Skyzyn.  To give you a backdrop, I loosely compared Call of Duty to Counter-Strike in terms of the game's ability to be watched live (i.e. I said it was about as exciting to watch as Counter-Strike).  After watching a couple matches, and arguably the "biggest" match up of the event in the OpTiC vs. EnvyUs match up…I have to say, Call of Duty: Black Ops is pretty damn boring.  Ironically, I thought Modern Warfare was significantly more fun to watch, but maybe there is some bias in that I love that game more than Black Ops.
Whatever the case, Black Ops / Call of Duty in general is missing something from the "excitement" equation.  In my discussion with Skyllus regarding the game, he mentioned two pretty good points that attribute to the lack of excitement.  First and probably most importantly, Call of Duty has no skilled weapon or "power weapon" action.  There is no sniper on the map; it is all Assault Rifle kills (Famas & AK) with some occasional knife swings.  When Skyllus compared it against Counter-Strike, he emphasized that players were going huge with Sniper Rifles, pulling off insane clutches and awesome kills.   In Call of Duty that level of action is only maintained if one player manages to kill 3 or 4 players in a consecutive sweep.  Second, the games most viewer friendly gametype, Search and Destroy, is too slow.  It needs 1:30 – 2:00 minute rounds to speed things up and really force the action — again look at Counter-Strike.  The last thing was that the commentary was not very good, and I won't harp on it too much because the league lost Fwiz to Machinima.  Those guys need to work on it some more to try and liven the game up.
The Ugly
The website and stream were not optimal (I know some of you have other words you would use).  I am so tired of the freakin' issues with the stream.  It was bad enough I couldn't watch anything on Friday night, but after driving to the event and realizing I couldn't even watch StarCraft AT the event I went home a tad pissed off.  I know the staff has to be frustrated with the way everything went down with the website and StarCraft, however this cannot continue to happen year after year, event after event.  There are always issues that arise and need to be addressed, however I cannot fathom how this process is not buttery smooth, with miniscule problems.  After a few years of doing the same general thing over and over it is really difficult for me to understand how this weekend's incidents occurred.
What I am most upset about is the fact that the MLG Memberships are right around the corner.  I do not know what all they entail, but I am pretty sure HD event streaming is one of the benefits.  I really, really want to support the MLG Memberships and I will be advocating it to others to sign up, but please MLG stop EFFIN' UP the stream.  It looks so bad, so terribly bad, to ask the community to buy into and support the idea of memberships, when the stream is continually jacked up year after year.  In fact, I do not think there has been a year where in some form or another, the website/stream has not been perfect every event during a season.
I forgive you and all, but for heaven's sake get it right already!  I'll have some video of the event on my YouTube channel highlighting the experience.