It's finally here, my complete review of the Razer Chimaera 5.1 Wireless Gaming headset! The Chimaera 5.1 is Razer's first attempt at headset specifically catered towards the Xbox 360 gamers of the world.  It offers 360 enthusiasts the opportunity to experience a near wireless experience, with 5.1 digital dolby surround sound and the elusive, but highly coveted 5.8 GHz interference-free wireless spectrum.
I had the pleasure of logging an hefty amount of gameplay time (80 hours) while using the Chimaera on the following:
Gears of War 3 Beta
Monday Night Combat
Call of Duty: Black Ops
Also used Netflix
Video Review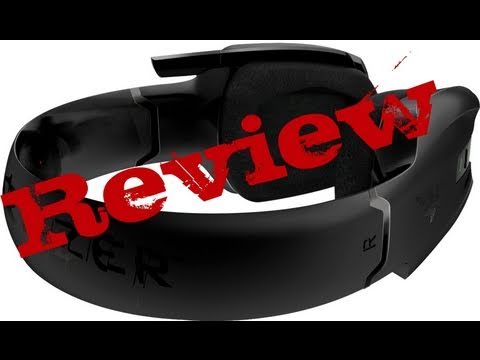 Design and Durability
The Chimaera 5.1 headset sports a base, black-on-black design with large, comfortable foam ear cups. The top band, like most headsets, has additional foam cushioning on either side of the charging pins.  The headset is powered by 2 AAA rechargeable batteries that are well hidden (and hard to access) under the right outer ear plate.  Give Razer major credit for including the fiber optical cable, something other headset manufacturers do not always do.  One particular, seemingly small, design feature that I love about the Chimaera is that the adjustable side bands are numerically ordered — you know just in case someone decides to put on your headset.
Razer does a fairly nice job allocating the controls on the left and right ear cups. The kickstand microphone, located along the left ear, is controlled by the volume wheel alongside the back of the left ear.  On the outer plate are the Mute Mic button and Power On/Off button (hold 3 seconds to activate).  The right ear functions as the main volume control center with the in-game volume wheel located along the back, and the Mute/Sync buttons on the outer plate (3 second hold to activate sync).  The Mode button, also located on the outer plate of the right ear, switches between Xbox Live and  Local Team Communications.
One design feature I'm not quite sure how to assess is the ability to "daisy chain" multiple Chimaeras together over a LAN network.  This is a feature, toggled by the Mode button, has a familiarity with the competitive community through the likes of Major League Gaming.  The implementation of Astro Gaming's "Daisy Chain" stations, utilized by the mixamp, allow for competitors to hook up multiple headsets over a closed, linked sound system.  Essentially creating an environment suitable for competing and hearing teammates in loud areas with lots of background noise.  The problem here is that wireless headsets are more often than not, banned from LAN competitions.  I can see why Razer would want to create the option to 'daisy chain' headsets, but there aren't going to be any players competing at Major League Gaming events (or other LAN centers that hold competitions) that are going to be able to use the function.
I should also note, because people always ask, the 2.5mm wire that is used to communicate over Xbox Live must be connected to the Chimaera headset in order to chat over Xbox Live.  Alright settle down, I know what you're thinking and you're right — it's not truly wireless, but no one has solved that riddle just yet.  We're all waiting for the adapter-ma-jig that some hardware manufacturer creates that transmits the signal from your headset to the controller (I've heard rumors about who's doing it) so you can talk over Live without that dreaded wire.
As for durabilty, I haven't had any issues thus far.  It's always a tough call for me to determine the durability of a headset because I have yet to break a headset.  All of the parts and pieces function as designed and I have not noticed any significant wear and tear.  Be warned however, the top band is not very flexible! If you are one of the many gamers out there that quickly pull out-and-over to take off a headset, you may come to find a crack along the top portion of the band in an area that holds a lot of that tension.  This is something I have personally witnessed on several occasions with the AX 720 and AX Pro's stiff top band design.
Ergonomically, I'm kind of torn on the Chimaera.  On one hand, it is one of the most comfortable headsets I have worn to date.  If it weren't for the the whole rechargeable batteries, I could go on power gaming binges without ear fatigue. On the other hand, it is a hulking, massive piece of hardware! I literally feel like I'm directing air traffic every time I put them on my head.  Basically, I either feel like a complete badass when I wear them or that they are overwhelming my head space. Maybe I'm bi-polar, but let me put it to you this way.  The Chimaeras are the only headset I have ever, clearly been able to see in my peripheral vision — I am not joking about the size of these babies!
Sound Quality
I played using both the Optical and RCA sound options which are available out of box with the Chimaera 5.1.  I used the RCA setup (lesser fidelity) while recording gameplay using my Hauppauge capture card on the Gears of War 3 Beta.  I was able to distinguish footsteps, gunfire, and other various in-game sounds without trouble.  When switching to Call of Duty: Black Ops I experienced a slightly more difficult time distinguishes footsteps amongst gun fire and explosions (using the RCA option).  When I switched to the Fiber Optical Cable, Gears of War remained about the same, but I noticed an improvement in my ability to distinguish sounds in Black Ops.  On one game session, I specifically remember playing Zombies and being blown away with the improvement in sound quality.  Movies proved to be equally captivating when watching Netflix movies.  I also used the opportunity to move as far away from the TV as possible to test the distance and quality.  Once you hit about 30 feet, each step causes a bit of a hiccup but I could still hear everything quite well once I stopped moving.
The Charging Dock Station also serves as a great tool for fine tuning the listening experience.  The station, essentially an audio decoder, can also adjust the Bass (Red) and Treble (Orange) which activated when adjusting the Equalizer (-EQ button).  It's a nice add-on feature not available in the regular Chimaera headset.
Issues that many people experience with wireless headsets did not occur with the Chimaeras:
No Hissing
No Static
No Interference with Router
The major problem with the Chimaera is not with the sound quality, but with the Mic quality.  Don't get me wrong, I love the ability to flip up my microphone to mute my Mic, but I shouldn't have to play that way just to appease my teammates.  More to the point, the Chimaera's microphone is incredibly sensitive!  It picks up sounds 10 – 15 feet away from the microphone which makes it difficult to play with teammates or in a party.  During my gaming sessions, I was frequently asked or suggested to do the following:
"Mute your mic!"
"What's that in the background?"
"Is your mic echoing?"
"I can hear other people."
"I can't understand you, too much background noise?"
Please don't assume that I have a rowdy household.  Half the time I would be playing by myself or with my girlfriend talking on the phone on our couch (roughly 20 feet away).  The other half was when my roommate @skyzyn was sitting by me playing together with our team.  To remedy the problem I either muted my mic or switched to a different headsets all together.  As much as I love the Chimaera, the microphone problems seriously hinder my ability to play with my teammates during online competition.  This is a major issue for both the Chimaera and Chimaera 5.1 and needs to be addressed in future iterations.
Specifications
Wireless Headset
Circumaural Design with 50mm Driver Units
Volume & Mic Control Buttons on the Headset
3 Preset EQ
Detachable 2.5mm Microphone Cable
Dimensions: 200mm(W) * 204mm(H) * 88mm(D)
Headphones
Radio Frequency: 5.8GHz
Dolby® Headphone / Dolby Pro Logic® II / Dolby Digital
Wireless Range: 33ft / 10m
Frequency Response: 20 – 20,000 Hz
Impedance: 32O at 1kHz
Sensitivity (@1kHz, 1V/Pa): 105dB +/- 2dB
Drivers: 50 mm, with Neodymium Magnets
Batteries: 2 AAA Batteries (Up to 8 Hours Battery Life)
Charging Time: 3 Hours
Microphone
Frequency Response: 130 – 10,000 Hz
Sensitivity (@1kHz, 1V/Pa): -42 ± 2dB
Signal-to-Noise Ratio: >55 dB
Pick-up Pattern: Uni-directional
Hardware Requirements
Xbox 360®
PC
RCA to 3.5mm Cable*
Available 3.5mm Headphone Jack
Available 3.5mm Microphone Jack
* RCA to 3.5mm cable required and sold separately
Pros and Cons
Pros
Comfortable To Wear
Outstanding Sound Quality
5.8GHz Wireless Frequency
Wireless Headset (30-foot range)
Treble and Bass Options (Charging Dock)
Cons
Mic Too Sensitive
Large and Bulky
Must Connet Wire to Chat on Xbox Live
End of the Day
The Razer Chimaera 5.1 Wireless Headset sits in a comfortable position to win over gamers looking to enter the wireless headset market.  I'm not quite sure Razer will hit home with the competitive community, mostly due to issues with the ultra-hyper sensitive microphone, but long time Razer supporters and people that are enjoying the Razer Onza might gain some loyal fans with the Chimaera.  I walked away thoroughly impress with the thought process that went into the Chimaera's design, but they missed the mark with a few minor things that are keeping it from being the de facto headset.
There are a growing number of wireless headsets popping up on the Xbox 360, but it's safe to say that the Razer Chimaera offers a compelling choice for consumers.  The two versions of the Chimaera allow for a competitive pricing advantage and sound quality is superb.  Interested buyers should take a serious look at Razer's Chimaera 5.1 Wireless Headset.
Related posts
coded by
nessus