You've been mulling the last few weeks over what controller to buy.  The Razer Onza was banned from Major League Gaming (it's not even out yet), Microsoft is releasing a new controller in November with an adjustable D-Pad, and you may have heard about creating custom controllers from businesses like Create A Controller.
Today's review may help narrow the search down to the "perfect" controller us gamers are increasingly looking to obtain. Create-A-Controller produces custom designed controllers for those out there interested in sprucing up their gaming equipment.  Custom designs and other services such as "rapid fire" mods are their specialty.
This review will cover the following:
Design
My Play Experience
Pros and Cons
Who Should Buy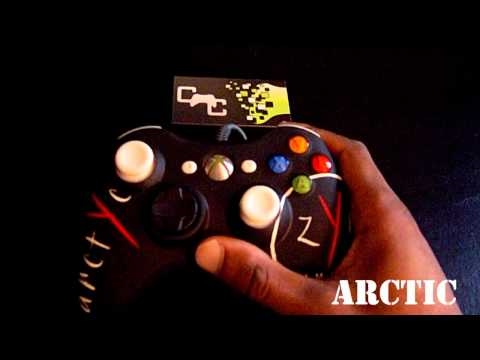 Design
For anyone out there looking to buy a controller with graphics that require precise detailing, definitely pay attention to this section.  Having a custom controller is all about the visual appearance, make no mistake about it, without a badass design there is not much that separates a plain red controller from a plain blue controller.
Create-A-Controller does a good job placing a design vision onto a controller.  The AmazYn controller feels like it belongs to our team.  The controller features the zYn white enso and two fonts that we provided to match our text branding. The enso was scaled and placed on the right-hand side of the controller.  The blood "Y" on both the zYn font and my gamertag font (arctYc) look superb.  One cool step in the process is going through the different mock-ups the design in order to ensure CAC provides its customers with the best possible design.
Two disappointing things occurred during my two-and-a-half  week play session, the matted finish wore off extremely fast. The matte finish sort of feels like holding sandpaper in your hands.  The grip wore extensively where the left and right hands hold the controller, as expected.  I cannot say I was too pleased to have other areas such as the D-Pad feel like new while the main areas I grip feel worn in comparison.
The other major disappointment was that my controller still possessed slow turn.  This is a major letdown because it is one of the main reasons Major League Gaming players are making the switch to custom controllers.  For those that do not know, Slow Turn is an inherent and absurdly common product defect in the left and right analogs on nearly ALL Xbox 360 controllers.  Basically the Y-Axis or X-Axis will turn at a different or "slower" rate of speed than what should occur.  The everyday average gamer would not notice this problem, or if they do, does not care enough to resolve the issue.  When thousands of dollars are on the line in a Major League Gaming competition, this is an issue that has to be addressed.
Sadly, my controller has slow turn when looking downward and to the left.  Clearly that is not acceptable and should other players find that problem, they would be irate.  There are two ways to check for slowturn:
Get on a computer and check the X-Y axis measurements
Purchase Slowturn Checker in the Xbox Live Arcade for 80MP
That is a make or break issue for many out there, so I can only hope my experience was an anomaly.
My Play Experience
Create-A-Controller is a new entry into the controller market and as it currently stands, they are very active with each and every customer.  Customer service is a very important aspect in a business field that involves creating customized items.  I believe that most people will be pleasantly surprised by the amount of detail and direct interaction they have with customers.
Make no mistake, this play experience was not that different from a standard controller experience.  I mainly looked for slow turn and whether the controller's matted finish would affect my gaming experience.  The first week I loved the gripped matted finish.  After week one, I began to notice that the "sandpaper" feel wore and it became more like a standard controller.  It should be noted that I did expect the controller to gradually wear over time, but I think it was a little to rapid for my taste.
Slow turn is the killer fix that MUST NOT be in the finished product, unfortunately our tests concluded that the AmazYn controller did have Slowturn to the left. I have been putting quite a bit of time into Monday Night Combat. Using the Tank's Rail Gun or perhaps the Sniper rifle (single shot weapons) require consistent aiming mechanics.  Slow turn prevents consistency and in the heat of competition, it is all about consistency.
I am in love with the design of this controller and for all intent and purposes it would suffice for about 95.5% of the gaming community out there, but slow turn cannot happen.
Pros and Cons
Pros
Awesome Design
Price Point Fits
Great for casual crowd
Cons
Slow Turn
Finish Wore Rapidly
End of the Day
At the end of the day Create A Controller makes a good, not great custom controller.  They are spot on fulfilling the visual aesthetics for anyone that wants their design on a controller.  Under the hood I still experienced some problems; slowturn a defect that is advertised as being fixed that can be detrimental in top tier competition and the finish on the controller wore faster than expected.  I believe the company should thoroughly invest time in checking slowturn on controllers. I would go as far as slapping a sticker on each controller that says "slowturn approved" or "slowturn tested" for insurance.
Should you buy another controller?  There is a high probability that I would purchase another CAC controller because they look that fantastic and I am a little egotistic about my own brand.  It will be a tough decision to make the purchase for a custom designed controller knowing that the Razer Onza and MadCatz MLG controller are right around the corner.  If CAC offers custom designs on the third-party controllers (MadCatz, Razer, etc) I believe we'll see CAC around for quite some time.
These controllers are for any gamer looking to add a custom look to their gaming setup.  If they are Major League Gaming competitors, the controller acts as an extension of their style and representation as a gamer.  If you have extra money to burn I would definitely get your "dream" controller design a try.  If you are not into designs and are more focused on vastly improving your game, I would wait on the Razer Onza or MLG's controller.
Update: CALiNORTH's TESTS HIS CONTROLLER
Related posts
coded by
nessus