eDimensional's Audio FX 5+1 headset has been around for a quite a few years now.  The headset represents a collaboration effort between the well respected hardware modder Benjamin Heckendorn and the eDimensional brand.  The design of the headset is definitely  dated when compared to some of the headsets in today's market, but it received antique points in my book.  These headsets are specifically built for PC use and require Windows 2000/XP/Vista or Linux and support USB 2.0.
During my evaluation I used the Audio FX 5+1′s for the following:
Battlefield Bad Company 2 (PC)
Call of Duty Modern Warfare (PC)
League of Legends (PC)
Music
Skype
I used the headsets for an extensive amount of time, often times leaving them on my head, walking around different areas (I'm that hardcore) without sound to test their durability and comfort.  Check out what I think about eDimensional's Audio FX 5+1 headset below: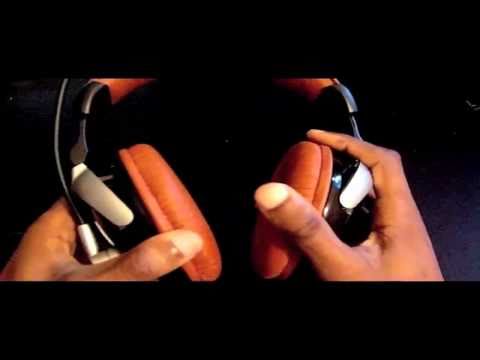 What's In the Box
Design and Durability
The Audio FX 5+1 headset have a fairly standard headset design aesthetic.  The headset is quite comfortable and took roughly five hours before my ears felt a bit of fatigue from sitting atop my noggin. That is largely attributed to the spacious, oval ear cup design and the flexible headband.  Each circumaural ear cup also has slight pivoting capabilities and did a good job cancelling out noise.
I was not fond of the black and brown color scheme — it felt like I was looking at my grandmother's house furniture.  The mic nearly rotates 360 degrees, offering a bit of flexibility, but it could be better.  Also the "red" LED lighting effects on the outside of each earphone are not cool after a mere 2 minutes 30 seconds of seeing them in action I was tired of looking at them.  The upside is that you know when someone is actually listening or playing on their computer.
I did not have any complaints about durability on this headset.  I twisted, pulled, dropped and threw the headset without any issues.   The flexibility in the headband held up well with my expectations, furthermore the ever-so slight pivotal action in the ear cup is a nice touch.
Sound Quality
Alright so here is where things get a bit awry.  I tested the sound quality on both a Mac (running Windows), a Sony Vaio (running Windows 7), and a few computers running Windows XP.  The reoccurring problem with the Audio FX 5+1 appeared to be that it did not like to be turned on a low volume setting.  I literally could not use the headset beyond the lowest volume control setting on the Sony Vaio, Mac, or other PC desktops.  It is TOO LOUD on nearly all of the other settings, even with the inline volume control and the computer's Master Volume turned down significantly.
When I listened to music at an acceptable volume for my ears, I enjoyed some of the best bass I have ever heard, to date, on a headset.  This is in part due to the audio force feed technology, 5.1 surround sound decoder, and integrated subwoofer (yes subwoofer) in the headset.  The audio force feed is surprisingly satisfying at low volumes, adding a bit more realism to my listening experience while gaming — something that I have not experienced with other headsets.  It is not without its faults however, slightly turning up the volume made for a really muffled, drowned out listening experience that can only be described as "bad."
On the Mac (running Windows) there were several times that the headset completely shut off and would not function — no game or mic sound.  I accounted it to driver issues (Mac OS X not technically supported), so any Mac users out there beware.  There also seemed to be a force feedback glitch that I only experienced on the Mac: a gradual, accelerating "thump" from the Force Feedback, culminating to rapid "thumping," resetting the process, and repeating.
On the other hand, the microphone held up well based on feedback from players in game, specifically during League of Legends and on Skype.  No complaints on that front, it is a very good mic, actually one of the better ones I have used.
Pros and Cons
Pros
Good Price Point
Good Microphone
One Wire, Easy Plug and Play
Force Feedback creates unique listening experience
Above Average Bass
Cons
Color scheme seems dated
Louder volumes deteriorate sound quality
Bass can become overbearing
In-game footsteps seemed distant
Inline Audio controls were not up to par
End of the Day
eDimensional's Audio FX 5+1 headset is a tad bit too outdated to hang with some of the contenders.  The Force Feedback technology is an interesting feature that adds a substantial amount of value to the headset, however the sound quality and lack of volume control make Force Feedback the lone highlight.  The bass, if played at low levels, is one of the best I have heard.  Increasing the volume just a tad will shatter the quality of the listening experience and you will feel like you are driving down the street with a subwoofer on your head.
If you are in the market for an entry level headset, the Audio FX 5+1 would be an experimental purchase.  As opposed to some of the other headsets out on the market, the Audio FX 5+1 is a little underwhelming.  The decent price point, and the Force Feedback technology are the major bright spots for this headset.  Headset collectors may want to give this one a go.
Related posts
coded by
nessus