The SteelSeries Siberia Neckband was released in November of 2007, "fine-tuned with the help of professional gamers, electronic DJ's and rock musicians.  The combined input and feedback from this broad range of picky audiophiles helped create a soundscape optimized for a multitude of uses."
Well I played a little over a week with the Siberia Neckband, utilizing it for a wide variety of purposes including, gaming, listening to music (on Motorola Droid), and browsing the web on a MacBook Pro.
Gaming
Red Dead Remption
Castle Crashers
Gears of War 2
Battlefield Bad Company 2
Aegis Wing
Despite SteelSeries' long-standing support of the competitive gaming community, this was my first experience using one of the brand's gaming headsets.  Early comments on my Siberia Neckband unboxing video led me to believe that gamers have a genuine liking for SteelSeries headphones.  If you are interested in purchasing these headphones or want to know my thoughts, you will want to read my full review below:
What's In The Box
Design and Durability
As a headset, the SteelSeries Siberia Neckband has a simplistic, clean design.  It sports a white and black color scheme with grey accents on the ear phone branding and logo.  The top band or "neckband" is encased in an elastic, nylon material that expands from the center outward, as demonstrated in my review video, to fit on its wearer.  The Siberia Neckband is an over-ear headset, surprising considering its size, and each ear phone contains a velour padding. One very cool feature that I have been raving about is the retractable, flexible built-in microphone supported on the left ear phone.  I am usually never a fan of Mics that are not interchangeable, but came away very impressed by SteelSeries' design.
Durability does not appear to be an issue, the Siberia Neckband feels like an extremely well constructed headset.  There are no flimsy parts, pieces or attachments, however I think over time there could be wear and tear issues in a few places (NOTE: HYPOTHETICAL EXAMPLE).  I believe the neckband is a vulnerable spot after repeated use and under certain circumstances I believe it can strip or pull the lining out of the elastic nylon material, exposing the band.  This has NOT happened with my headset and I will continue to update on any durability issues should they arise.  All-in-all it appears to be very well built with substantial durability and flexibility.
My one issue, and it seems to be a reoccurring problem with smaller headsets, is that my ears become uncomfortable after a couple hours of use, be it gaming or listening to music.  I experienced  a discomfort on my right earlobe and has occurred each time I play for more than 2 hours in a sitting period.  Other than that, no problems with the design and durability.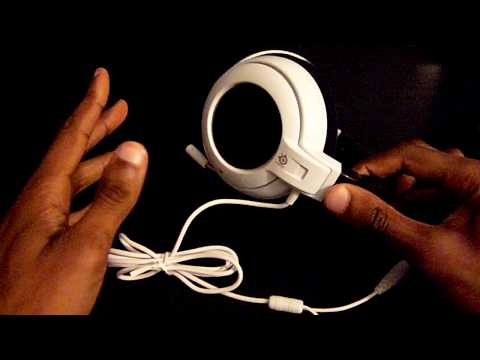 Sound Quality
The sound quality on the Siberia Neckband ranks in the "good but not great," category.  I had the privilege of utilizing my Astro Mixamp to beef up the sound output, however without that extra help the experience hovered around good.  I also noticed that there were no stereo connect cables to split the audio from the Xbox 360 to the headset, perhaps I overlooked them, but I checked thoroughly.  If SteelSeries forgot those cables then shame on them.  Don't fret you can still use the headsets via 3.5mm output jack on your television (if you have one).
For gaming purposes, I thought the headset was good.  I could distinguish enemy footsteps on various surfaces in
Gears of War 2 and Battlefield Bad Company 2, but without my Mixamp it was a little more difficult and a bit grainy. One thing to note is that when speaking on Xbox Live, you will need to change your voice output settings to "Through Speakers or Both," otherwise you will not be able to hear teammates.  I did, thoroughly enjoy, using the headsets to listen to music on my Motorola Droid.  I actually found myself seeking out the Siberia Neckband over some of my other headsets when it came to music.  The compact design may have attributed to that desire.  Check out the full spec sheet below:
Pros and Cons
Pros
Nice Price Point at $89.99
Minimal number of wires, reducing clutter
Lightweight, mobile with great overall design and durability
Great for MP3 use and casual internet browsing
Built-In Retractable Microphone is OUTSTANDING
Cons
Uncomfortable after a couple of hours
Neckband design takes some adjusting time
Sound Quality could be better for Gaming
End of The Day
For any Xbox 360 Gamer that is not familiar with SteelSeries, this is a very good opportunity to get familiar and try out this good headset.  The design and sound quality are on par with the Tritton AX180s, they are definitely built much better than the Turtle Beach products and their price range is right in line with mid-level headsets.  I think the Siberia Neckband is a good headset for any gamer entering their first headset purchase and do not want to be disappointed.  It is versatile, sports a simplistic design and just "gets the job done." There are pricier headsets out on the market with better sound quality, but the SteelSeries Siberia Neckband is very solid with minimal flaws.  I am surprisingly pleased with their ability to produce quality headsets – if you are interested in giving them a try, check out the link (and more pictures) below.  Be sure to catch Skyllus' review of the SteelSeries 4H headset next Friday, June 11.
Related posts
coded by
nessus