The Tritton AX 720 Gaming headset is the mid-grade gaming model headset provided by Tritton Technologies.   Like the Tritton AX 180s, the AX 720 headset is a universal headset, meaning it can be used on the Xbox 360, Playstation 3, and the PC or Mac.  I played with this headset for roughly 30 hours of gaming from the following list of games:
Call of Duty Modern Warfare 2
Battlefield Bad Company 2
Gears of War 2
Halo 3
Dark Void
The AX 720 headsets that I used for this review have between 150 – 200 total hours of game play use from customers within the eBash Video Gaming Center store.  Nearly all of the of the customer feedback has been positive, yet most customers have pointed out one glaring design flaw which you can read about in the full written review below.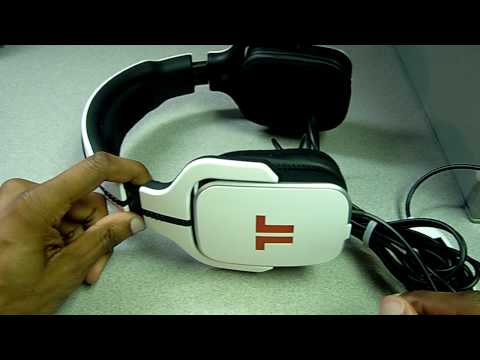 What's in the Box
Design and Durability
The Tritton AX 720s design is not one that overly impressed me.   I am actually not very fond of the plastic, glossy finish because it makes the headset feel a little cheap. The headset has an all white matted finish with the orange Tritton logo (logo looks sweet) placed in the middle of each ear phone. The headset itself is a bit on the bulky side, however it is not a heavy headset.  Each earpad contains a padded velour cover and that fits comfortably without any irritation.  There is a detachable, semi-flexible microphone that is also a great addition to the headset.  Like the AX180s, there is no option to switch the microphone from the left to right ear; it can only be placed on the left ear.
Alright so my major complaint with the design is that this headset is NOT in any way, shape or form a durable headset.  One would think that the bulk look of the headset would equate to some type of durability, but it does not.  There are two factors that contribute to its durability flaws: flexibility and the 40MM input.
The Tritton AX 720s are STIFF.  When most people take off headsets, they pull outward and over there head.  The 720s do not perform the outward motion all that well and if you are not careful, you can easily snap the adjustable track which seems to be the major tension point.  The disappointing thing about this design flaw is that the AX180s are extremely flexible, so how do they manage to make this headset not flexible?
The second problem is that 40MM input prongs can bend and break easily.  I know they are trying to beef up the sound quality, but it is not smart to go with 40MM inputs.  If you happen to bend a prong, you have to get a very fine tip object and bend it back in place.   If you have to repeatedly align your prongs they will eventually break — NOT SMART!
Sound Quality And Pro Logic II Decoder/Mix Amp
Sound quality is definitely the AX 720s strong point.  The two contributing factors are the 40MM input capabilities and the Fiber Optical cable out of the box.   It is obvious I do not agree with using 40MM inputs, but it does bolster sound quality versus the 3.5MM input.  There is an inline audio controller located along the 12.5 ft wire which is great for adjusting separately, the voice and game volume levels for players on PS3, Xbox 360, and PC.  The full spec sheet is listed below:
The Pro Logic II Decoder is basically what makes this headset function.  At its core, it works as a very simple mixamp.  There are two dual 40MM inputs on the front-face of the decoder that can be used for two people listening to music or watching movies along with four buttons that control volume, power and sound source.  On the back side of the Pro Logic there is a voice to PS3 mini USB input, Fiber Optical input and power input.  All-in-all it is very simple to understand and use.  The major downside is that it does not include any other options for sound inputs.
NO Red/White AV
NO Coaxial
I cannot really gripe about the sound inputs because the superb sound quality that comes with Fiber Optical makes this is a great headset for the big shooters such as Gears of War 2, Call of Duty: Modern Warfare 2, and Halo 3.  I really enjoyed playing with the headset on Battlefield Bad Company 2 while practicing for the the $10,000 Gamestop Battle of the Baddest tournament.
Pros and Cons
Pros
Price Point ($129.99 – 139.99)
Universal (works on Xbox 360, PS3, and the PC)
Sound Quality (comes with Fiber Optical cable)
Inline Audio controls
Not many wires
Available at brick and mortar retailers
Cons
Looks/Feels cheaper than it should
Not Flexible can snap
40MM prongs can bend and break
Fiber Optical only sound input  (NO Red White A/V, coaxial)
End of the Day
The Tritton AX720s are a very good headset for any gamer.  The sound quality is outstanding and I was very pleased while playing during Battlefield practice and other shooters.  My biggest gripes come with the design aesthetics of the headset.  It feels cheap, it is not flexible (Tritton is capable of producing flexible headsets), and I do not like spending time fixing 40MM prongs.   I think these headsets are a great choice for gamers that are very keen on not moving their headset around from place to place.  If you frequently are on the go, these may break relatively quickly.
If you plan on staying in the comfort of your home with minimal movement, I would highly recommend this headset.  Other headsets you may be interested in around this price range include the Turtle Beach X31′s or the Astro A30s – you may want to read our review before settling on the A30s.
If you are interested in purchasing the Tritton AX 720′s, you can find them at the Amazon store for $129.99.  More pictures available at the AmazYn Facebook Page.
Related posts
coded by
nessus