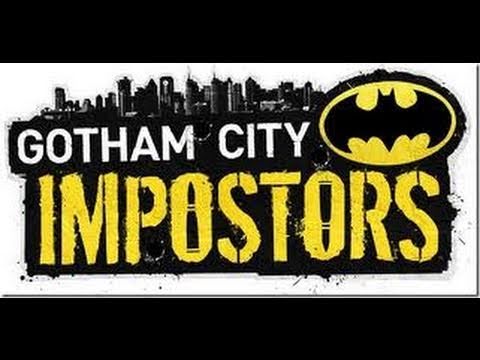 Gotham City Imposters is one of the few games that took me by surprise at E3.  The over-the-top shooter posed one of the few, refreshing takes on what a first-person shooter is supposed to be by meshing the Batman universe with guns…crazy-ass guns.  My teammate @Skyzyn happened to run across the game first and was pumped to let me know that it was worth the time to play.
The game itself takes characters from the Batman universe and applies some standard first-person shooter mechanics with a few quirky gameplay mechanics that make it strangely addictive.  The gameplay demo featured 3 out of 5 (maybe more) character types: Nimble, Speedy, Tough.  I imagine those character types go hand-in-hand with some of the gameplay weapons/mechanics such as the Glider and Grappling (Nimble) or the Rollerblades (Speedy).
The game mode available at E3 was 'Psychological Warfare' which played like a mix of Headquarters and Search and Destroy (Sabotage).  Essentially each team tries to attain a neutral bomb (Battery) and plant it at the opposing teams' bomb site (Mind Control Device).  Overall the main weapon mechanics didn't feel that much different from the shooters we've come to love, yet certain weapon dynamics like the grappling gun make for some insanely fun kills.
For an Xbox Live Arcade title, Gotham City Imposters is certainly promising.  I think the price point and multiplayer netcode will heavily determine it's success.  If it's priced too high, no one is going to buy it and if the netcode sucks (Brink), no one will play it.  If Monolith nails those two things, at least for me, G.C.I. may have a new home on my console.
GOTHAM CITY IMPOSTORS

CRITICALLY ACCLAIMED MONOLITH PRODUCTIONS SHATTERS FIRST-PERSON SHOOTER MODEL WITH

OVER-THE-TOP GAMEPLAY WHERE PLAYERS BECOME PERSONALIZED VERSIONS OF THE BATS AND THE JOKERZ

BURBANK, Calif. – May 16, 2011 – Warner Bros. Interactive Entertainment and DC Entertainment today announced GOTHAM CITY IMPOSTORS, an original download-only first-person shooter where players battle for control of an unhinged Gotham City overrun by impostors inspired by the DC Comics characters Batman and The Joker. Developed by Monolith Productions, the game will be available in the Xbox LIVE® Marketplace for the Xbox 360® video game and entertainment system from Microsoft, Windows PC and PlayStation®Network.

"GOTHAM CITY IMPOSTORS blows apart expectations for superhero games with an exaggerated take on first person shooters, set in a part of the DC Universe players have never seen before," said Samantha Ryan, Senior Vice President, Production and Development, Warner Bros. Interactive Entertainment.  "Monolith is creating a game that turns Gotham City upside down and we think fans are going to have a blast with this creative twist on multiplayer heroism and anti-heroism as they play up the classic rivalry between Batman and The Joker."

GOTHAM CITY IMPOSTORS is a multiplayer game unlike any other, giving players the opportunity to rebel against conformity as they customize their own characters.  Posing as amateur vigilantes or villains, gamers will create their very own Bats and Jokerz characters using unprecedented customization options including insane costumes, homebrewed gadgets and a wide range of traditional and imagined weapons.

The game will feature maps and modes inspired by DC Comics' Batman license.  Fans can visit www.GothamCityImpostors.com for more information and to sign up to receive updates regarding the game.
Related posts
coded by
nessus