My journey into the world of competitive gaming, technology, and business began in 2004 when I became restless with the current state of my gaming team.  Restless is probably the best way to describe my attitude before I embarked on the drastic changes effecting those in my sphere of influence.
I am confident that my role in athletics led to an easy transition to "captain" gaming teams, so when I proposed that the active members of my team of the time, Violators, merge with our good buddies Just Bring It, it raised some eyebrows.  Violators and Just Bring It became Violent By Instinct in 2005. Having the experience of running such a large team was nothing short of amazing, but over time I found that I was on a completely different mental state than the majority of team members.
This blog is sectioned into three parts:
Figuring It Out
Sharing Knowledge
Violent By Instinct or vBi eventually grew to about 25 members with international ties in the UK and Australia; in retrospect I really had no plan of action to properly manage such a large team.  At the time, PC teams such as Complexity, Team 3D, fnatic, and SK Gaming, were the "model" I used to build vBi.  It appeared as if the "PC Model" was the proper way to structure a large gaming team, but it became apparent (to me at least) that managing such a large group was nearly impossible.  Everyone had a different reason for being a part of the team.  We needed a number of players representing us across different games, but without players to fill captain roles, it fell upon my shoulders to captain every game.  The benefit of having a larger gaming organization is that it becomes very easy to have an endless stream of players practicing at all hours of the day, week, and year.
Around the time that we started the vBi regime we got wind that a rival team, LGD won a $250,000 Battlefield: Modern Combat tournament for the original Xbox.  There were a number of players on our team that felt that throughout our gaming careers we consistently beat teams like LGD in other games.  The question I began asking myself was, "Why can't we win tournaments?" We had the talent, we had the time and we definitely could win against teams like LGD.  The problem, as we soon found out, was that the "Professional Console Gaming" scene was not stable enough to support our (my) aspirations.
Path to Professional Gaming 2006-2007
I can so vividly remember scouring the web for tournaments on the Xbox 360. Search terms like, "Xbox 360 Tournaments" and "Console Gaming Tournaments" definitely come to mind.  Quite naturally, I found out about Major League Gaming, but at the time the league was specifically catering to the Halo crowd — USA Network anyone?  I did not want to bother getting into Halo being so far behind the rest of the competition, so MLG wasn't exactly an option at the time.  I decided to try my hand at The World Series of Video Games (2006), a now defunct league, and played Ghost Recon: Advanced Warfighter.
The experience seems all so surreal when I think back on it.  At the WSVG tournament, we played alright; we were not GRAW experts, but managed to hold our own.  We ended up losing to the second or third place team at the event.  At that time, teams like PMS and Frag Dolls were all over the place (they still are), but PMS was backed by Verizon for heaven's sake!  If large companies were backing them, I thought for sure we could manage to make a dent in the gaming world if we could get a foothold somewhere.  After the event we made a wise decision to hold off on spending any excess funds on GRAW; shortly thereafter Gears of War was released in the holiday season of 2006.
Gears of War really is the reason I was able to have a relatively successful gaming career.  The game caught everyone's attention and the audience it attracted was too widespread for several of the gaming leagues to ignore.  I think the focus of our team really shifted during that period because I drove it towards competition which was probably a turn off for some of the more casual guys on the vBi squad.  I am sure many of you remember the MLG Online Tournaments?  Those tournaments were the beginning of my continued journey in competitive gaming.
During the year of 2007 we traveled to MLG Meadowlands, WCG New York, WSVG Louisville (Fight Night), WSVG Dallas (Fight Night), CPL Dallas, MLG Chicago, and finished up with MLG Orlando.  I will honestly never forget how exhilarating that gaming season was while I was competing.  We were put in the spotlight at the first Gears of War event by placing 4th, losing by one measly round to vVv Vision who won the event and placed second at WCG New York with a different vBi squad.
In my mind, we had a clear advantage over the rest of the Gears of War community — an arrogant thing to think.  We dropped Gears of War for a couple weeks while I practiced Fight Night Round 3 (along with Skyllus) at the World Series of Video Games. I placed 1st, winning, to this date, the most I have ever won from a gaming tournament ($3625.00), and receiving my first "Big Check." Skyllus finished second, cementing a nice boost in the vBi "brand".  I followed that performance up with a third place finish at WSVG Dallas, this time taking along OraNgE (now Seventeen) who finished fifth.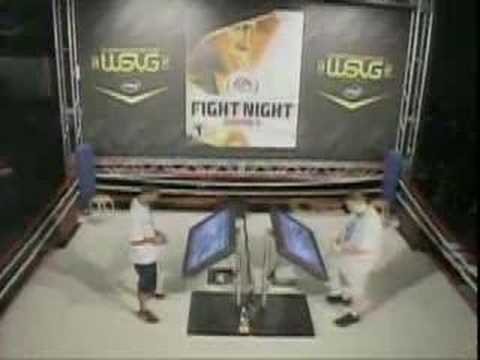 The mistake I made during the season was losing focus on Gears of War and playing the money grab game.  I made calculated risks, based on potential winnings, instead of continuing to improve my team's Gears of War game.  On the MLG scene we lost our Pro seed by not attending MLG Dallas and never really saw the same GoW success that season.  At Cyberathlete Professional League (CPL) we placed third, but there were not many teams so it was a bittersweet placing.  The real downside of the season was that the World Series of Video Games flopped and I never received my earnings from WSVG Dallas — shortly thereafter the CPL flopped.
We ended on low note, but I came away with the understanding that we were only going to focus on one game.  If other players wanted to play in tournaments, they would compete in other games.
Major Leaugue Gaming 2008 | End of vBi
This was the period of time where I learned the most about what I wanted to gain from the "professional" gaming scene.  I experienced the frequent roster changes. I experienced the infrequent practice schedules.  I experienced everything that other players have experienced in their MLG careers.  The 2008 Pro Circuit season was the year I learned what not to do during a season.  For the most part, the teams that continued to win were the ones that had the most consistency during the season.  Consistency in practice schedules, consistency in rosters, and a desire to be the best.  The NSAN3Z and Infinity were two of the most consistent teams during that time frame.
During the 2008 Pro Circuit season I also began working for eBash Video Gaming Centers.  My goal was to establish a central location that allowed my teammates to practice and build chemistry during a season.  The first few steps involved asking various teammates from vBi if they were interested in trying out my new concept.  Zack Johnson, one of the owners of the eBash Franchise, let me try my little experiment while managing the eBash Bloomington location.  My brother, and Skyllus were the first two members of vBi to give the experiment a whirl.  Neither of them were actually on the Gears of War team during the 2008 season, but we planned to reunite in 2009 with a new team and a new goal. I understood that we needed focus, practice and consistency —  AmazYn was born.
AmazYn (zYn Gaming) MLG 2009
AmazYn was created out of the combined experiences and challenges I encountered from 2005 – 2008.  I knew I needed teammates with the same, like-minded goals and aspirations.  It was a very easy transition for the guys that remained with me when the team changed.  We were focused and dedicated to proving that the new model for a team is us.
I am sure many of you know some of our hiccups during the MLG 2009 season.  At the beginning of the year, we were not very good at Gears of War 2.  Skyllus, OraNgE were not really involved with Gears of War in 2008.  CaliNORTH and I were essentially the veterans and the team definitely took awhile to mesh.  The keys to our success during 2009 involved changing around a number of small factors in our gaming approach.  A list of changes included:
CALiNORTH spent the summer (May – Sept) with the team
Increased our playtime during the summer months (June – Aug)
Increased our team practice time  (3 hours on weekdays, 5-6 hours on weekends)
Did Not Exclude ANY Team from Scrimmages (We Played EVERYONE)
Experimented with different playstyles, strategies, etc
By the time MLG Dallas rolled around we had probably doubled or tripled the amount of teams we scrimmaged versus the competition.  It contributed to our success and I was grateful to learn from the experience.  We had the perfect structure to ensure a much more successful event.  After CALiNORTH moved back home and we moved from Bloomington to Terre Haute, it affected our ability to practice and continue the same rigorous schedule.  There was nothing more eye-opening than that year in regards to the proper approach to be the absolute best.
In my next article I will explain how I turned Major League Gaming's decision to remove Gears of War from the Pro Circuit from a negative into a positive. And why I decided to share my knowledge with every other aspiring Professional gamer out there.
Related posts
coded by
nessus